Wulkan hardening - At the hardening plant in Anderstorp
At the hardening plant in Anderstorp, we perform hardening as a sub-contractor, with the largest belt furnace capacity in the Nordic region (1200 kg per hour). The plant is suitable for case hardening, quenching and tempering, as well as carbonitriding of items up to 300 grams. With the logistical advantage of being located in Southern Sweden, transport costs are reduced, and as per a so-called "green electricity agreement", we offset all of our energy consumption with renewable energy. Together with our customers, we are one of the cleanest hardening plants in the world.
With today's technology, even small items with high safety requirements can be easily hardened in the belt furnace. Mattssons also offers additional post-production treatments, such as various surface finishes, which in the long run, provide major logistical benefits by allowing us to deliver the finished product to you.

Below you will find an overview of the treatments we offer.
Carbonitriding
Carbonitriding is a thermochemical surface treatment method. It is a variant of case hardening, which is used when the items are made of low alloy steels. Adding ammonia to the furnace atmosphere makes it easier to harden the carburised surface so that steel, which would normally be water-hardened, can be hardened in oil to achieve high surface hardnesses.
Case hardening
Case hardening is a thermochemical surface treatment method. The metal is heated in a carbonaceous atmosphere for a predetermined time to harden the surface of the material. After heating, the parts are cooled again and the core remains unaffected throughout the process. Case hardening creates a surface that can easily withstand wear and tear.
Quenching and tempering
Quenching and tempering means that the steel is subjected to a normal hardening process but where the subsequent tempering occurs at high temperatures. Thanks to this high tempering temperature, the steel is not only hard but also tough, which can be an important characteristic in various applications.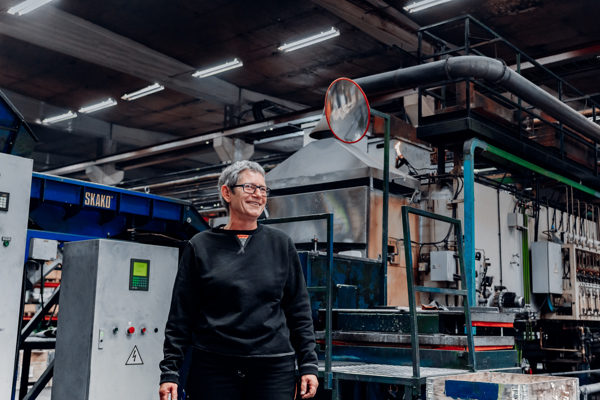 Maggan Svensson has several years of experience in hardening and is happy to take requests and questions regarding delivery notification and quality.
Telephone - (+46) 371 - 58 82 67
E-mail - maggan.svensson@wulkan.se