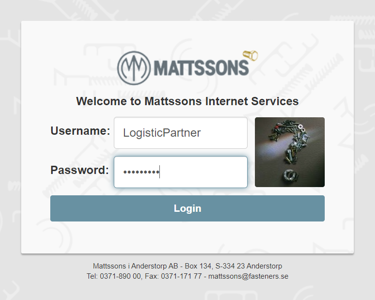 Mattssons' Logistics Partner
a) Customer
As a Logistics Partner, you have access to additional features and a host of additional services linked to your user profile. For example, you can set up a catalogue using your own items if you want to limit your product assortment during the design stage. You can also plan and monitor automatic reservations to prevent shortages in your product assortment and to increase delivery reliability when your forecasts change.
Mattssons keeps your part numbers up to date. You can receive authorisation to link your part numbers to those in Mattssons' product assortment. You can also search for parts using translations of several well-known company/supplier part numbers. You have the option of viewing your drawn items (specialised items). In addition to a scanned drawing or CAD file, we also display a image from the register, which makes searching easier.
You have access to your own prices and, if your company is part of a group, the prices of other companies in the group. You have the opportunity to see which parts the group buys and has forecasts for. You can also see the current trends.
APQP - a project plan within QS 9000 - is a tool that shortens the time between idea and quality-assured production.
b) Supplier
You get access to your forecast. You also receive a table of call-off orders and contract orders, and you can view orders, change delivery times, and notify us of the stocked quantities. You have access to a filter function for non-acknowledged or delayed orders and empty stock quantities.
You have the opportunity to answer questions about prices, delivery times and references in connection with deviations. You can also directly update the APQP Project - a project plan within QS 9000 that simplifies and systematises the various stages of planning and manufacturing.