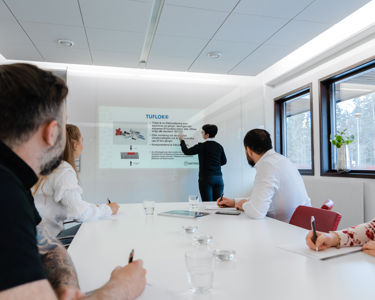 Mattssons Academy
Deepening your knowledge of fasteners
Make sure that you have the correct joint in place by increasing your knowledge of fasteners. Mattssons Academy offers training courses on joining technology that can be tailored your exact needs. The courses are offered at several different levels of expertise based on the participants' existing knowledge. Since Mattssons can demonstrate the entire value chain at their own production facilities in Anderstorp, we recommend taking the training on-site with us for the best results, however it can still be performed at your location or online.

Mattssons Academy is geared primarily for designers, technicians, assembly professionals and purchasers who deal with fasteners.
Below, you can find information about the different training packages we offer.
Product knowledge 1
A product overview of what is available on the market in terms of screws, nuts and washers, etc.
Product knowledge 2
Information about different standards and strength classes for fasteners.
Product knowledge 3
Information about different surface treatments and locking methods that are available on the market, as well as their characteristics.
Joining technology 1
Strength classes, assembly phases, joint types and locking.
Joining technology 2
Assembly methods and principles of screw joints.